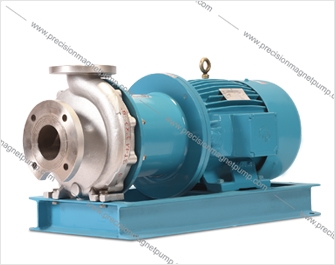 PUMP SPECIFICATIONS
| | |
| --- | --- |
| Pump Model | PMP-1000 |
| Connection (Suction) | 3" NPT Female |
| Connection (Discharge) | 2" NPT Male |
| Max. Flow (Ltrs/Min) | 1000 Ltrs/Min |
| Max. Head (Meter) | 50 Mtrs. |
| Std. Duty Point Q/H | 30 M3 / hr. 35 Mtrs |
| Sp. Gr. Limit | 1.6 |
| Motor/Kw | 10 H.P, 2880 RPM , 3 Ø, TEFC |
| Phase | 3 ϕ |
| Pump End Connection | 3" Flange X 2" N.P.T Flange |
All pump models are available in flame proof motor also.
S S Series Precision's Sealless
Explosion proof type centrifugal pump in stainless steel is now introduced in response to the process industry growing concern for the environment, the safety of plant personnel, and the high ongoing cost of mechanical seal maintenance. It is an ideal pump for use in installation handling toxic, noxious, inflammable or corrosive liquids such as Nox or freongas where leakage to atmosphere cannot be tolerated. This sealless process pump is also applicable to slurry or the liquid of temperature up to 450 deg/c. S S series Pumps are also available in S. S. 304, S. S. 316, L, Alloy-20, Hastelloy - BC, Monel and Titanium.
Sealless
Pumpage is hermitically sealed in a thick, rugged stainless steel pump casing. Magnetically driven, sealless pump construction assures you of leak freeness. The pump never soils surroundings, but maintains safe and clean environment.
Drastically Saves Maintenance Costs
Silicon Carbide wet bearings, the core of pump, extensively reduce wear and corrosion, and provide extremely long life (interchangeable front and rear). Thanks to its Back pull - out design and slip - fit construction, Precision's Pumps are easy to disassemble and reassemble on - site without special tools or skills required. Easy of maintenance extensively curtails the relative costs and resolves the shortage problem of plant manpower.
Extremely Safe Pump Designs
The pump is explosion - proof design. Silicon carbide bearings, the only frictional parts in wet end, eliminate the possibility of jamming by rotational contact. Pump and motor are separately positioned so that leak of pumpage if any never affects electrical equipment. Optinal high - pressure secondary containment is available to eliminate pumpage leak through corroded rear casing. Pump and rear casing are completely drainable through a casing drain plug.
Construction
| PUMPS PARTS | M.O. C |
| --- | --- |
| Volute Casing | S. S. 316-L |
| Impeller | S. S. 316-L |
| Rear Casing | S. S. 316-L |
| Gasket | PTFE / Grafoil |
| Shaft Sleeve | Silicon Carbide |
| Bush Bearing | GFR- PTFE, Carbon' Silicon Carbide |
| Front Thrust Washer | Tungsten Carbide, Silicon Carbide |
| Rear Thrust Washer | Tungsten Carbide, Silicon Carbide |
| Shaft | S. S. 316 L |