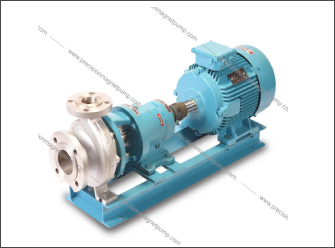 Our Mechanical Seal Pumps come with a variety of seal option And flexibility. Our pump offering provides smooth even flow, Which is advantageous in applications where problems have Risen or could due to pulsation caused by Pump.
Introduction :
Over year of experience, in 1988 Precision Engineering Company' is one of the leading suppliers of chemical process pumps which supply these pumps worldwide. These pumps are used in wide range of process applications. They are highly reliable and offer low operating costs in the process industry. All ranges of efficient chemical process pumps are designed as per the technical standards. 'Precision' is globally operating leading manufacturer of innovative non-metallic pumps for handling aggressive, abrasive and chemically contaminated fluids and fluid mixtures. Our mission at 'Precision Pump' is to provide high quality products utilizing vision and insight to exceed our customers' expectations. We are committed to provide our quality products at very competitive prices and at minimum lead-time. We will continue to deliver excellence, strive for continues improvement and further increase our presence in the Global markets.
These Pumps are provided with injection molded wetted parts as well as Super alloys& industrial graded Casting & fabrication and have a robust construction. The materials used are (SS- 304/304L, SS - 316/316L, SS - 904/904L, MONEL/TITANIUM, Alloy - 20, Aluminum, C.S, M.S. Hastalloy B/C, Rubber Lining, PP, PTFE, PVDF) etc. the material of construction is specially selected depending on the specific application. This ensures of highest corrosion resistance and stability. The shaft sleeve & Mechanical Shaft Seals are selected to suit the service condition, for Pumps handling fluids containing suspended particles slurry etc. and for effluent services especially seal with suitable faces are available with proper environment control arrangements. PEC series pumps along with the above functions are ideal for heavy duty application. These pumps have a back Pull out Design Construction for easy Maintenance without disturbing the Piping & have a special Feature of Oil Bathing Body System for a Continuous & Long Fife Running Pumps.
Application :
'Precision' application engineers provide a valuable resource to our customers. Their goal is to match process problems with the best and most cost effective pump and sealing solutions. We can often provide information based on prior experience that is industry and application specific to our customers' specific applications. With our product range, we are covering a wide range of pumping applications involving acids, alkalis, chemically contaminated, corrosive and solids-carrying fluids in many market segments. Main applications of our pumps include the chemical process industry, the environmental sector, the metallurgical and surface finishing industries, flue gas clean-up and applications with similar requirements.
Sea water desalination
PCB Manufacture
Fertilizer production
Wastewater treatment
Solar cell manufacturing
Chlor-alkali electrolysis
Exhaust air scrubbers
Electroplating
Ore extraction
Biogas treatment
Glass finishing
Copper electrolysis
Ultra-pure water
Coating lines
Acid regeneration
Process water
Chemical plant manufacturing
Nickel electrolysis
Manufacturing of bio fuels
Acid production
Steel pickling
Performance Data
Pump Capacity: up to 280 m3/h
Total differential Head: up to 60 mtrs.
Operating Temperature (t): up to 80&degC
PTFE Bellow
PTFE: bellows provide universal chemical resistance for wide services & non-wetted metal parts eliminate the need for expensive metallurgies. TB/TBR seal is inherently hydraulically balanced to ensure proper face loading. Installs easily on outside of stuffing box; eliminates the use of elastomers.
Gland Packing
Gland packing pumps come with pure PTFE or PTFE Impregnated Blue Asbestos against specific customer requirements. *standard pump fitted with GFT/CER Teflon Bellow Mechanical seal Shaft Sleeve. Shaft Sleeve of different material depending on the compatibility of the liquid to be handled.